Below you can see the international childrens films we showed at screenings around Port-Au- Prince and Leogane in March/April 2010.
Many of these titles were suggested by some wonderful film friends of HKKP, including Mark Cousins, Lawrence Magloire, Ben Slater, Tony Grisoni and Toby Haynes, Arril Johnson, Joan Ashworth, Rich Warren, Liz Harkman.
If you have suggestions for our October/November 2011 programme, please let us know… We are looking for child friendly titles, either in Kreyol, French or silent, and especially films that feature black characters.
Any suggestions – do get in touch!
SHORT FILMS shown in 2010 screenings

Red Balloon – Albert Lamorisse -34 mins (France)
Ti Sentaniz – Kreyol language animation with narration by Haitian author and poet Maurice Sixto (Haiti)
Josh Sanquist – a short film about kids with amputated limbs playing sports narrated by Canadian skier Josh Sanquist. Kreyol dub by Fast Forward Haiti.  2010  (Canada/Haiti)
Les Rescapes – 6 mins – series of short films made by great Haitian comedy troupe (they also performed live with at two HKKP shows.  (Haiti)
La Belle Fille et La Sorciere – Michel Ocelot (France)
Sean the Sheep – "Bull" and "Kite" episodes – Aardman Animations (UK)
Hedgehog in the Fog – Yuri Norstein – 11 mins (USSR)
The Magic Horse – Lotte Reiniger silhouette animation – (UK)
Life On Earth – 10 minute extracts from David Attenborough's series (UK)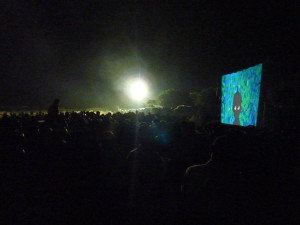 FEATURE FILMS shown in 2010 screenings

Kirikou et La Sorciere – Michel Ocelot – 74 mins (France)
Kirikou et Les Betes Sauvages – Michel Ocelot – 75 mins (France)
Le Ballon d'Or – Cheik Dokoure – 90 mins (France/Guinea)
Robin Hood (Disney) French version (US)
Jungle Book (Disney) French version – 78 mins  (US)
SUGGESTED FOR 2011 TRIP
Africa United –  85 mins – Rwanda/ South Africa/ UK

Mwe Bana Bandi – 29 mins – Zambia/ Finland

A Town Called Panic – 75 mins – France
Wallace et Gromit – 4 Shorts (French version) –  4 x 30 mins – UK
My Neighbour Totoro – (French version) – Japan
Kiki's Delivery Service – (French version) – Japan
Morph – UK
ET – (French Version)
Paddle to the Sea – 30 mins – Canada
Princess and the Frog – (French Version)
Zora La Rouche –