Nepal in numbers
It looks increasingly unlikely that we will return to Nepal in 2016. Partly this is because we don't currently have volunteers that are in a position to travel for the length of time that a trip would require. Since the refugee crisis in Europe escalated so terribly last summer we have wanted to bring KKP to camps closer to home, and we are now planning trips to Europe beginning shortly.
Before we turn away from Nepal, at least for now, I wanted to provide some numbers for the month long trip. It's hard to know exactly what to touch upon so if there's more detail you'd like to know then please get in touch.
| | |
| --- | --- |
| Days in Nepal | 30 |
| Screenings | 17 |
| Total audience (estimated) | c1000 |
| Films made by children | 90 |
| Volunteers in Nepal | 3 (+1 for the first week) |
| Volunteers supporting from home | c10 |
| | |
| Travel | |
| Flight miles | 4666 |
| Driving miles in Nepal (rough estimate) | 230 |
| | |
| Expenditure | |
| Flights | £1100 |
| Living expenses for volunteer team | £1650 |
| Driver + vehicle (inc fuel) for screenings | £750 |
| Kit (screen + poles, generator, assorted other bits e.g. extensions cords, lanterns etc) | £1000 |
|  Total | £4500  |
Baal Chalchitra: the Kids Kino Project visits Nepal
In November, after months of planning and fundraising the NKKP team sent four volunteers to Nepal to screen films to children affected by the 2015 earthquakes. We spent a month screening films in camps and villages that were close to the epicentre, and helped children to make films about their lives.
This evening will be a chance to share in that experience with films and footage from the trip, along with news about the future of the Kids Kino Project.
This is a free event but donations will be very welcome!
Get Bhak
In Kathmandu we managed to make contact with 
Clean Up Nepal
 who have been carrying out surveys of the camps in Bhaktapur, which is a UNESCO World Heritage Site around a half hour away from Kathmandu. Bhaktapur was badly damaged by the earthquakes and, despite many people relocating to their home villages, there are still approximately 30-40 camps in the town. With winter approaching fast, the people who are still living in these camps are the ones with nowhere else to go.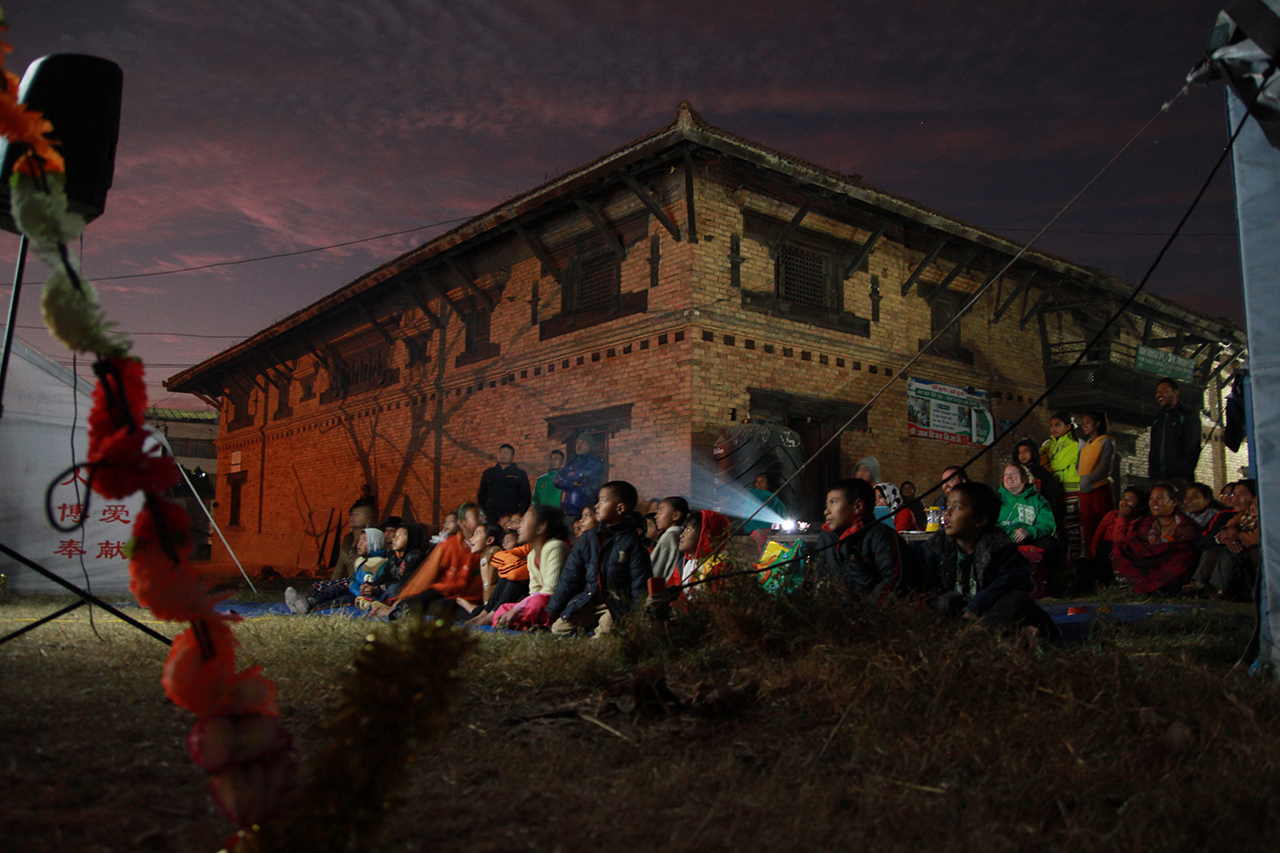 We make a research trip out to Bhaktapur and are taken around six of the camps by Clean Up Nepal's camp monitors (Rejina & Soonam). We have time to carry out three more screenings so we select the three camps that have the largest number of children living in them, and are located near to some of the others.
Some of the camps are actually located within the boundary of the UNESCO World Heritage site itself. Toll booths will continue to collect tourist money just outside, whilst these people expect to be living here for the next 2-3 years.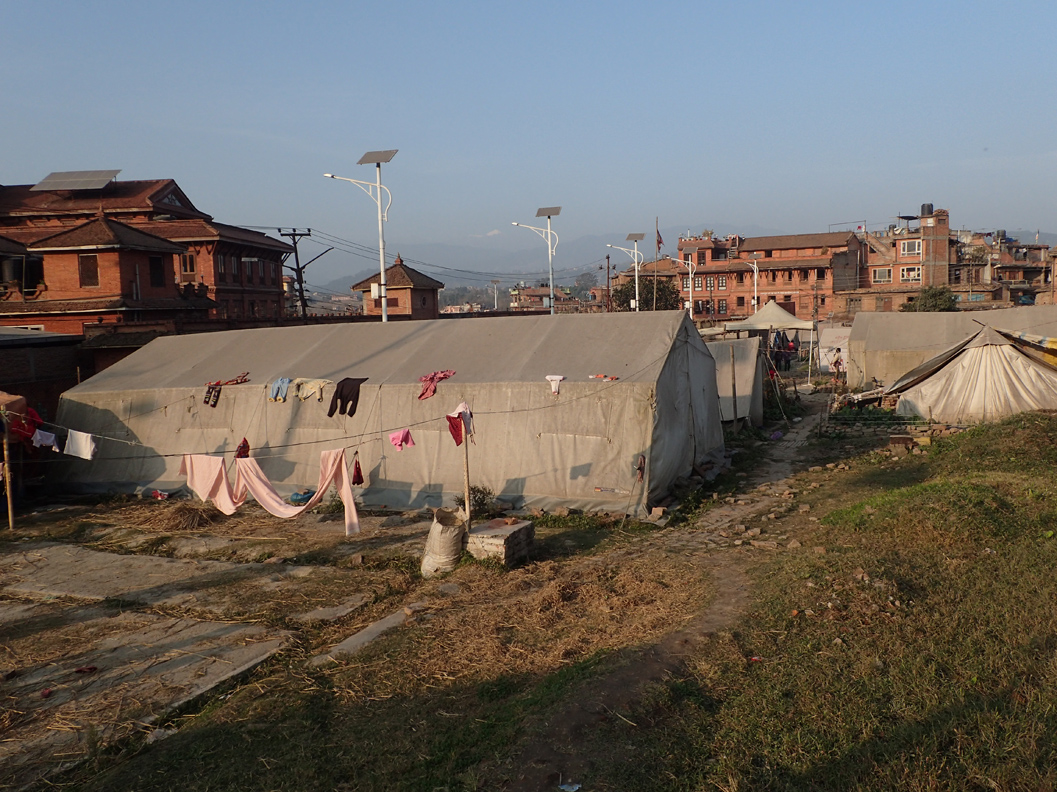 All three screenings are a success, and we hear from the children that our screenings have been creating quite a buzz amongst the kids in the local school. We screen in Sano Byasi, Libali and Itachhen camps.
Few screenings go without some sort of hiccup and at the 2nd camp we visit we come close to brushing with the wrong side of the law. Things are getting tense throughout Nepal with the protests now stretching further into the country from the border, meaning police everywhere are on high alert. Itachhen is located right next to a police station, and although we clear it with the perimeter guard posted just inside the camp, a more senior officer soon appears during the set up and takes quite a lot of convincing that what we are doing is innocent and just for children. With some lengthy explanation and pleading from our wonderful driver and awesome Clean Up Nepal volunteers we are given the green light to continue. We are then graced with the presence of an armed guard hovering nearby for the rest of the evening, but at least he seems to enjoy the films as much as everyone else.
Chuchepati, Chu-chuchepati, slow down kids, you're gonna hurt somebody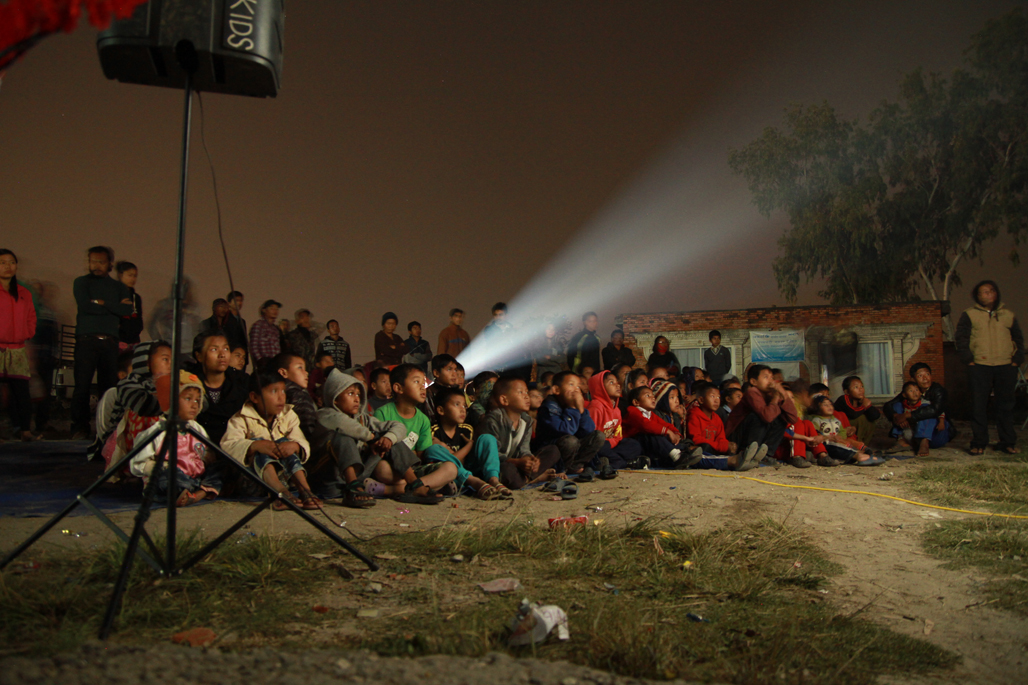 We returned to Chuchepati camp the day before we wanted to screen, just to check it was ok, and were greeted enthusiastically by a group of kids who remembered us from our first visit. After meeting one of the teachers there who assured us it would be fine to screen the next day, we were taken on a short tour of the camp by some of the children who wanted to show us their tents – and wanted sweets! Seems Pam's handing out of lollies after the last screening had set some high expectations, we managed to leave the camp only after assuring the kids we would bring sweets the next day.
We had many willing hands helping us set up the next day, everyone was clearly excited to have another screening. A short session of singing and a couple of short films got everyone settled; the audience ranged from 100-150 over the evening, including a large percentage of adults! Under a glorious full moon we screened our favourite programme – The Red Balloon and How to Train Your Dragon – both went down an absolute treat, with the audience in thrall until the very end.
I spent much of the second film in conversation with a woman called Kalpana, who is a similar age to me. She told me a lot about her life before the earthquake, and her feelings about living in the camp – she says she is often hungry and cold, and also scared as sometimes people come into the camp to take drugs. Also that she prefers having a boyfriend to getting married, but if she ever does she wants a big white dress rather than the traditional red Nepali women wear!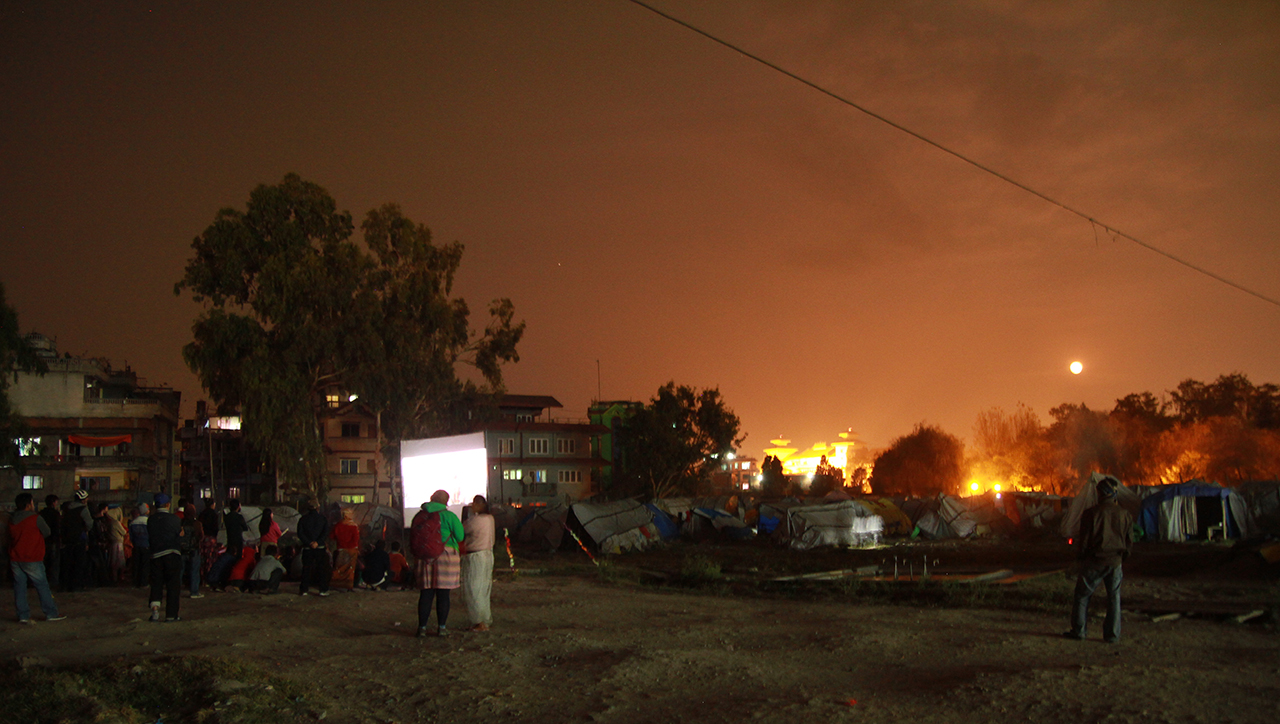 We had a visit from the police during our conversation, though I didn't realise until they told me afterwards as he was in plain clothes but had a walkie talkie. Apparently he was just checking up on what was happening, and was fine with us just screening, but wanted the women to call him after we had left safely. Kalpana mentioned an incident where some tourists had arrived at the camp and started giving out blankets and food – she didn't go into specifics but the implication was that it had gotten a little hairy, understandably the police want to avoid further occurrences of this. Giving out the sweets after the screening made us realise how that might happen – the kids went wild, crowding around wanting more and more – if they had been adults it would have been pretty frightening!
We left on a high note though, with a bit of a sentimental goodbye – everyone was asking when we would be back, we were pretty sad to have to tell them we wouldn't be able to return as we now have plans for screening in Bhaktapur, where there are still upwards of 30 camps spread throughout the city. It was a great evening though, we felt like we'd really made an impact on the people of Chuchepati camp.
Salyantar camp screenings
While in Dhading we travelled to a camp located just outside the village of Salyantar on top of a very steep hill, overlooked by the majestic peaks of the Himalayas, where we held two screenings four days apart.
The people camped here came from a village that was wiped out by the earthquake. It is a day and a half walk from their old village and they don't know how long they will be here.
We are told that most of them have never had TV's and many had never seen a film. We played The Red Balloon and How To Train Your Dragon (Hindi language version) as a double bill for the first time, with children and adults alike absolutely loving it. Toothless the dragon reminds me of my cat, who I miss greatly, so I spent much of the screening hiding in my hoodie so no-one could see me cry.
For the first time on this trip, we saw children literally fighting off their parents in order to stay until the very end. It was magical.
From the Valley #1
Now that we're safely back in Kathmandu, here's the first of our back-log of updates from our time in the Dhading region. A lot happened, with 6.5 screenings and 2 workshops conducted in 7 days throughout 4 different communities as well as hikes, swims and plenty of spider watching.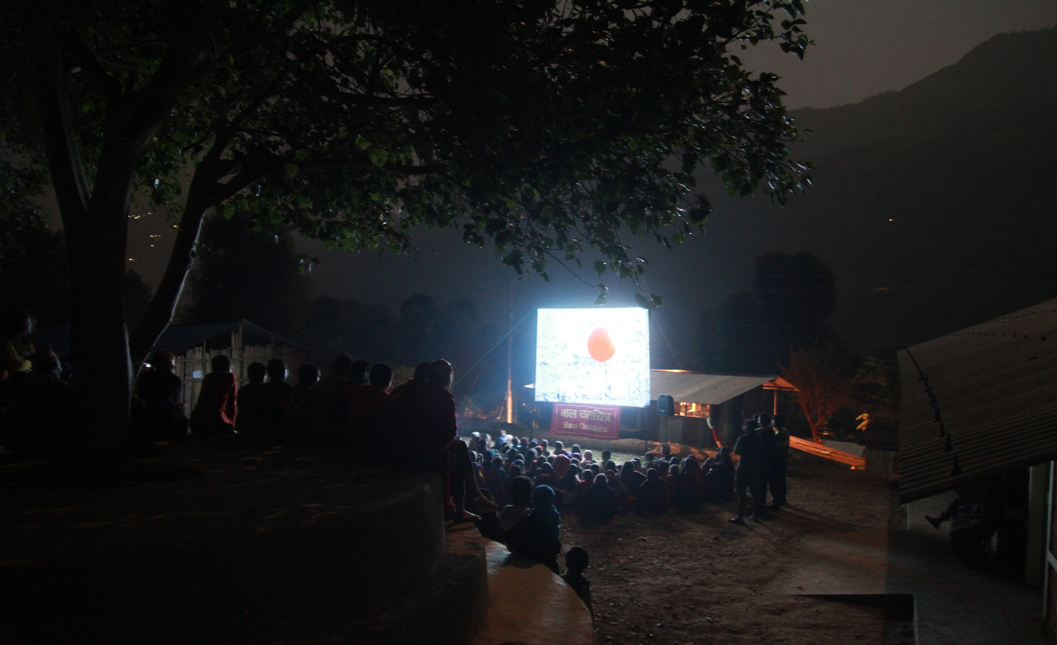 Here's a look at our work in the two schools in the largest communities we visited, Khahare and Sukaura. We conducted filmmaking workshops in both schools, as well as two screenings in each, although the first screening at Khahare school was a small screening inside a classroom, showing just a few shorts plus the films that the students had made earlier that day.
We kicked things off in Sukaura school with workshops for about 30 kids, split into 3 groups, with each group being given a camera to work with. We set them a list of topics to make short films/interviews on:
Tell us a joke or a funny story
Tell us about the day the earthquake struck
Show us around your school
How is your life different now compared to before the earthquake?
What are your dreams for the future?
After a bit of help with translation the kids ran off excitedly to make their films, while we set about preparing for that evening's screening. When the workshop time was up we hurried home for a quick spell of editing to sort through the films and select the best to screen back to the kids that night before our chosen feature, The Jungle Book.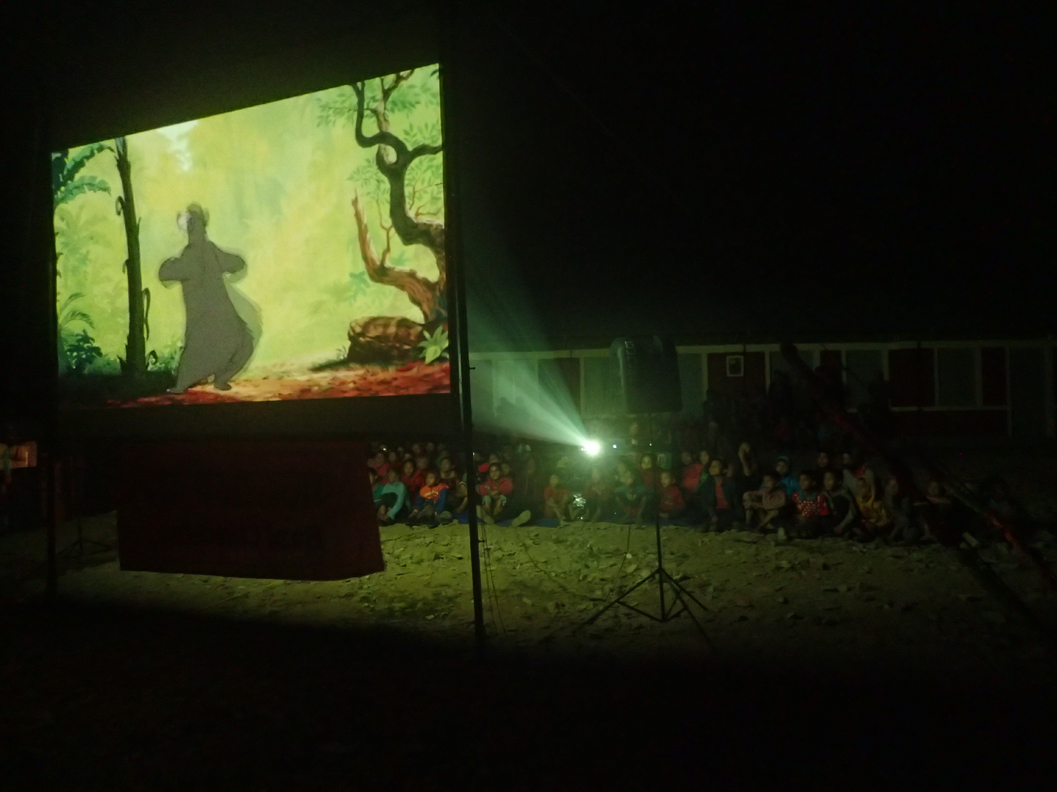 We returned to Sukaura a few days later for a second screening, this time playing The Red Balloon and How To Train Your Dragon.
On our last evening in the valley we had our second screening at Khahare on a grander outdoor scale, screening the epic (2 hrs :40!) and wonderful Taare Zameen Par.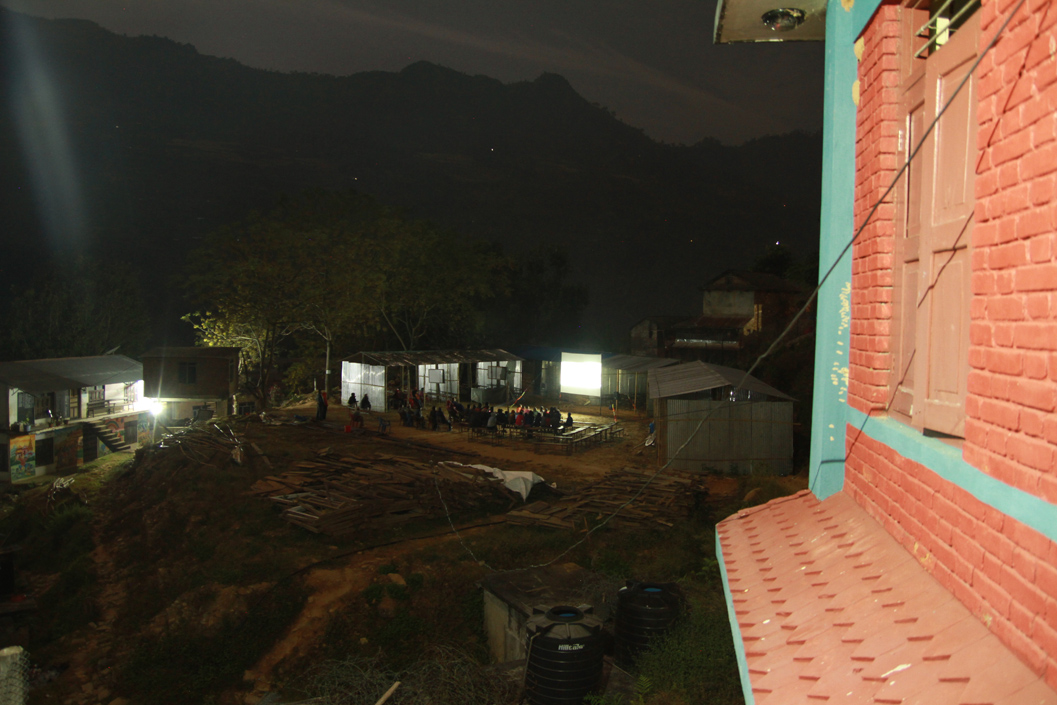 More photos from Sukaura and Khahare… it was hard to choose just a few! Click the thumbnails for the full picture.